Wedding Dress Alterations in Manchester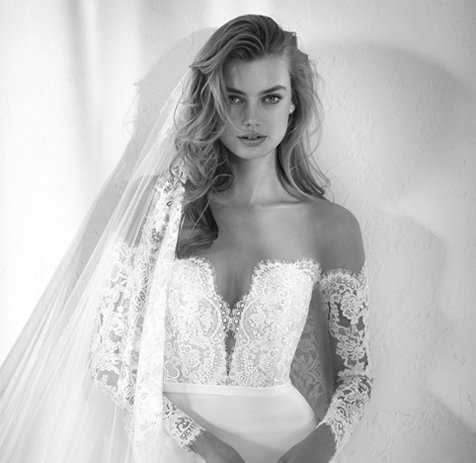 Alterations Boutique Manchester has over 35 years of experience in wedding dress alterations. If your dress needs shortening, taking in, or is the wrong size our dedicated bridal specialists will work on your dress until it fits you precisely.
With a wealth of experience in bridal dress alterations, our thorough and meticulous bridal seamstresses have the expertise to alter your dress to perfection. Whether your wedding gown is made of delicate lace, luxurious silk, embellished tulle, or any other material you can trust our bridal experts with any type of alterations as they have the high-level expertise to not only alter your dress to perfection but to restyle it in ways you thought were not possible. If your wedding dress needs to be resized or restyled visit us for a complimentary consultation and our fully qualified bridal seamstresses will help you achieve the desired fit.
Our experience lets us offer a full range of wedding dress alterations including restyling the neckline, adding sleeves, reshaping the train, adding lace, appliques, or any other embellishment. We will work with you on a one-to-one basis to listen and understand your needs. Our vision is to ensure that when you walk down the aisle in your bridal dress you will feel the most confident you have ever felt in your life. You will gain this confidence by knowing that you look incredible from every angle. These are just some examples of bridal alterations we can perform:
Bridal Gown Alterations Services in Manchester:
Take in or Let out Wedding Dress sides

Narrow Wedding Dress shoulders

Shorten / Lengthen Wedding Dress

Reshape Wedding Dress neckline

Add Bustle

Add Belt

Add Modesty Panel

Veil Alterations

Replace Wedding Dress Zip

Restyle Wedding Dress

General Wedding Dress Repairs
Enquiries
To make an enquiry, please complete the contact form by clicking on the link below or email This email address is being protected from spambots. You need JavaScript enabled to view it.
Book an appointment
To book an appointment click on the link below.
The Experience
At Alterations Boutique Manchester we have worked hard on putting together the best possible team to work on your dress, developing a high standard of customer service we believe all brides deserve, and we have been successful at creating a wonderful experience from the moment a bride walks into our boutique.
Our professionalism, sensible costs, and our wealth of experience are the things that will help you in your decision to choose Alterations Boutique Manchester as your Bridal Alterations company of choice.
First Appointment
We would advise that you visit us with your wedding gown and the shoes you intend to wear on your wedding day at your earliest convenience. Our bridal specialist will perform an initial consultation, pin your dress, and provide you with a breakdown of alterations costs. If you would like to go ahead, we will take payment, create an order in our in-house computer system, schedule a date for your next visit, and store your dress until then. If you have not purchased the shoes you intend to wear please let our Bridal Seamstress know so that she does not pin the hem until you have.
Fittings
Wedding Dresses are complex to alter and therefore we do not know how many fittings may be required to complete the work to your satisfaction. You may not need to visit several times so please plan and prepare for multiple visits.
Costs
When it comes to Wedding Dress Alterations we believe in charging our brides fair prices, therefore, we undertake regular research to ensure our rates are competitive. Our bridal seamstresses are highly trained which means that you will receive the best possible service and outstanding quality workmanship, without having to pay premium prices.
All fittings including the consultation are free. We only charge for the work we perform and you only pay for the work we agree to do once. For example, if we take in the dress and it still does not fit correctly when you try the dress on, we do not charge again. Please book an appointment by clicking on the link above or email us at This email address is being protected from spambots. You need JavaScript enabled to view it.
Frequently Asked Questions
What services do you offer at Alterations Boutique Manchester?
At Alterations Boutique Manchester as well as alter your Wedding Dress we can provide Bridesmaid Dress Alterations, Mother of the Bride Alterations, Flower Girl Alterations, and even Suit Alterations.
When should I book my first appointment?
We recommend you visit with your wedding dress as soon as you have it even if your wedding is still several months away. We like to have as much time as possible to alter a Wedding Dress.
How long does the alteration process typically take?
The duration of the alteration process and a number of fittings required depends on the complexity of the alterations and the current workload. We strive to complete the alterations within a reasonable timeframe while ensuring the highest quality craftsmanship. We never however guarantee how many fittings may be required to complete the work to your satisfaction so please be prepared to have to visit several times during the process.
Do I need to schedule an appointment for alterations?
Yes, we operate on appointment-only service for all Wedding Dress Alterations to ensure that our team can dedicate sufficient time and attention to your specific needs. Appointments help us manage our workflow efficiently and provide you with a personalized experience.
Can you accommodate last-minute Wedding Dress alterations?
We understand that unexpected circumstances may arise, and we will do our best to accommodate last-minute Wedding Dress Alterations based on availability. Please contact us as soon as possible, and we will work with you to find a suitable solution.
What should I bring to my appointment?
For a fitting appointment, please bring the undergarments and shoes that you plan to wear on your wedding day. This will help us ensure accurate measurements and hemming adjustments for the perfect fit. If you have not purchased the shoes you intend to wear please let our Bridal Seamstress know so that she does not pin the hem until you have.
How long do fittings take?
Fittings last a maximum of 30 minutes. It is important that you do not arrive late to your appointment or we may have to reduce the amount of time we see you as there will be other clients likely to be booked in after you are seen.
How many people may I bring to a fitting?
We recommend that you bring no more than two people with you.
Can I eat or drink at my appointment?
Food and drink are not allowed on the premises to reduce the risk of staining wedding dresses.
Can I bring a pet?
We love animals but unfortunately, we cannot permit animals on site due to the risk of staining wedding dresses.
I have purchased a wedding dress and I am pregnant
Do not worry! Our skilled Wedding Dress Alterations Seamstress has the ability to convert your dress from a zip-up style to a lace-up style back dress to create the extra room needed.
Do you steam the dress?
Yes, we do but we only steam the dress at your final fitting when you are collecting the dress. We recommend steaming the dress only if necessary.
---