Gentlemen's Made to Measure and Bespoke Service from Alterations Boutique
At Alterations Boutique we provide a Luxury Made to Measure and Bespoke Garment Service utilising the world's finest cloths and workmanship you will find.
We can make Made to Measure or Bespoke Suits both Two piece or Three piece, Tuxedos, Overcoats, Shirts, Trousers and Waistcoats.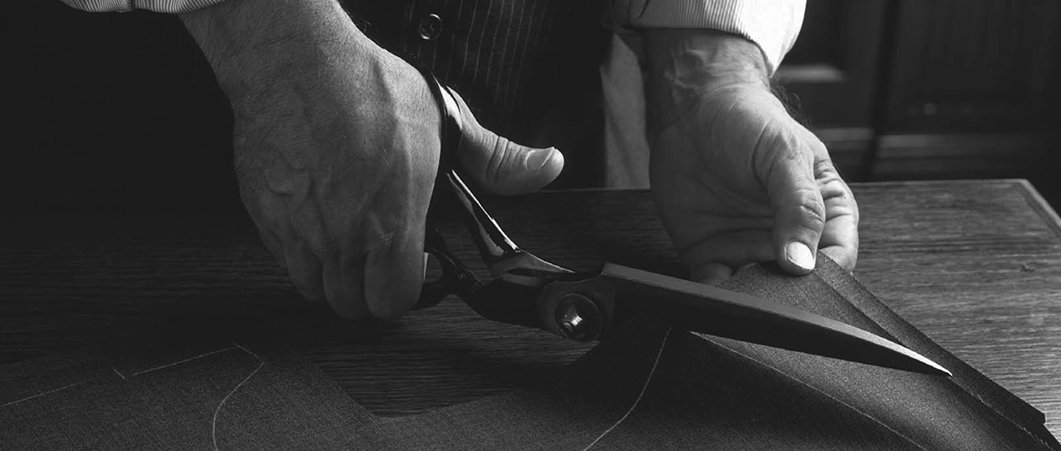 What is a Made To Measure garment?
A made to measure garment is made from a pre-existing pattern while making room for adjustments that cater to the owner's specific size and preferences. The process starts by taking the measurements of the client and finding a base pattern that closely matches the exact dimensions. For a proper fit, the pre-existing pattern is altered to correspond to the client's measurements.
Made to Measure Suits
Our half-canvas bespoke suits have served our customers very well over the years. Utilising a mixture of traditional and modern construction techniques, the half-canvas suit provides canvas material throughout the chest and the lapels of the jacket, while the rest of the jacket is fused together using the latest techniques. The methods deployed in the construction of this range, mean that the gentleman with limited time on his hands can still enjoy the luxury of tailored suits. Please note that you will need to allow between 6 - 8 weeks from your initial consultation until final completion.
Made to Measure Overcoat
Our exclusive coat made-to-measure service makes it possible to produce these luxury items in just 8 weeks, respecting the customer's size and desires whilst maintaining the superb standards of quality for which we are rightfully famous for. This service gives the customer a chance to choose the fabric, style and details that personalise a coat. We now offer the option to customise our iconic 'Retro Coat' which has become a classic. This gentleman's coat is fly-fronted, a tad shorter than the covert coat, with darting for shape, horizontal side pockets and a velvet collar. Today, worn in the country or city it lends its wearer a distinctive sartorial edge.
What is a Bespoke garment?
Our design process gives the client the unique opportunity to create exactly the garment they require. We do not use an existing pattern and instead sit down with you to create a unique pattern according to your requirements. From the choice of cloth through to such details as the number and positioning of pockets and the shape of lapel, the customer has the freedom to design the Suit, Shirt, Overcoat, Trousers or Waistcoat which will meet his needs. This responsiveness to the client's requirements coupled with the benefit of our experience produces optimum results. For us, there is a big distinction between "good" and "perfect". It is of paramount importance that we are entirely happy with the end product and the customer is confident in his sartorial presentation. This one-to-one personal care, allied to dedicated craftsmanship, is the rock upon which our reputation was built and is still the hallmark of the company today.
Bespoke Suits
Hand crafted in England by our Master Tailors our bespoke suits are constructed in a traditional full-floating canvas unlike made to measure suits which use a combination of construction. Every Tailor Made suit is crafted from a unique pattern and hand-finished using only the finest materials to achieve luxurious comfort and fit. Our garments are tailored using established sartorial traditions with patterns designed to flow with the natural contours of the body.
Bespoke Shirts
Every shirt we make is made by hand. But why choose a bespoke shirt? You will find the difference in the fit, the fabric and the construction: a shirt that doesn't fit a little, is a shirt that doesn't fit at all. It's only after experiencing a fitting first-hand that you can begin to appreciate just how much work goes into putting together the perfect shirt.
Over a dozen upper body measurements will be taken by our shirt makers so that your shirt is a perfect fit. It will match the precise contours of your shoulders, your preference for cuffs & collars, as well as your habits of watch wearing. Our shirts take between four to five weeks to make – quicker if you wish to use our Express service.
Every shirt comes with removable collar bones, mother of pearl buttons and each one is finished with the finest single stitching.
Bespoke Overcoats
Handmade, our overcoats are made and cut in England. As with every overcoat we make, unless you choose our Express service, the overcoat will take 8-9 weeks to make – we have a half way baste fitting and then a forward baste fitting before the overcoat is finished and delivered.
Quality and Reassurance
The suit that every sartorial connoisseur dreams of – 100% hand-made, full floating canvas, exquisitely finished, traditionally constructed; the bespoke suit at its very best. The full floating canvas suit utilises a layer of horsehair canvas between the fabric layers, enabling the suit to take on the body shape contours of the wearer, improving the aesthetics and comfort of the suit over time. You will need to allow 8 - 10 weeks in total from your first consultation through to final completion.
We would love you to experience the detailing, comfort, and style of our garments. Craftsmanship is evident in all of our suits, jackets and shirts. You will not find such craftsmanship at this price point at any other tailor. In order to achieve optimal comfort and fit, only natural, soft, supple and lightweight materials are used.
The process
Once you have been measured and the best suit styles and features have been appropriated for your body type and preferences, you can sit back for four weeks whilst your master tailor gets to work and prepares for your midway basted fitting.
The midway fitting gives you the opportunity to try on a lightly stitched version of your suit, known as the 'baste', whilst at the same time facilitating an in-depth conversation with your master tailor. At this stage, your suit is pinned and tweaked accordingly, before it is then pulled apart, re-cut and fully made up for your final fitting. We also adjust your paper pattern to update your customer profile, ready for any future purchases. Four weeks later your suit will be ready for your final fitting, where any minor alternations will be turned around in 1 - 2 weeks.
The full floating canvas bespoke suit is the height of luxury and requires time to be savoured…as will you, once you own one.
The prices
Made to Measure Suits start from £700.00 depending on cloth choice.
Bespoke Suits start from £2000.00 depending on cloth choice.
Enquiries
To book an appointment at our boutique or make an enquiry, please complete the contact form by clicking on the link below or email This email address is being protected from spambots. You need JavaScript enabled to view it..